Facility Specifications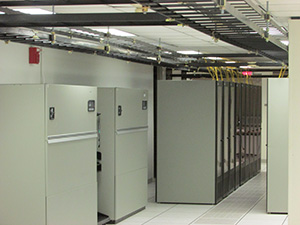 The Charlotte Collocation Center was built from the ground-up as a Dedicated Hosting facility providing an area for customers to bring their own servers and equipment. This means that to use our service you never have to worry about installing or maintaining new hardware, and that changes and upgrades are immediately available. We offer clean network bandwidth and reliable power.
UPS and Generator Power:
Dual Liebert 130KVA N-Power UPS systems each with dual battery cabinets.
High Capacity 402KW backup generator with 1200 AMP 480 Volt 3 phase auto transfer switch.
Scalable power in 1,5,10, 20 AMP increments.
Facility Security System:
Lockable Cabinets
Motion Sensors
Secured Card key and biometric access
24 X 7 automatic police department notification
Climate Controlled Environment:
Liebert and Data Aire N+1 HVAC systems provide environmentally controlled climate.
Temperature maintained at 70 degrees.
Humidity controlled by infrared humidifier with auto flash.
Building Adaptability
Easy Site Expansion to suit your future needs
Building Specifications
12" Thick Concrete walls
Industry Standard Electrical Grounding
Anti Static Flooring
19 or 23 inch Relay Racks, Cabinets, or by the square foot
Connectivity
Scalable Sonet and Ethernet ring network with Time Warner Telecom, DukeNet and Cogent. Level3, Time Warner cable, Zayo, Windstream, and AT&T are available.
DSX-1 and DSX-3 cross connect and test capabilities on site.
Convenient RJ-45 patch panel with 10/100/1000 switched ports.
Location
Convenient South Park location with off street parking.
"Zero Mile" local loop.
Fire Suppression System
Viking Total Pac
Pre-action sprinkler system designed for server applications.
Separate particle and heat sensors.