Benefits of a Colocation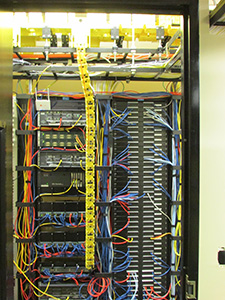 Co-location is the next step up from your own virtual domain service provided by a hosting company. This allows for greater flexibility in terms of administration and implementation of services, especially when dealing with your own clients. The Charlotte Collocation Center allows you to install your own hardware, enabling you to determine and to justify the hardware required to support your clients/virtual domains. What the Charlotte Collocation Center will supply is bandwidth and the facilities to locate your machine.
Advantages
Increased flexibility.
Better performance because you determine the hardware specs.
Savings on overall hosting costs.
Decreased dependence on external customer support services, as most administration and maintenance can be performed through remote administration.
Things to Consider
How much AC/DC electrical power will your require?
Amount of 19" rack, cabinet or cage space needed
Bandwidth requirements
Remote Hands on Technical Services
How many usable IP's do I require?
Do I have server rails for my server? Most of our cabinets are 26 5/8" deep and use round or square holes for mounting server rails.
Do I have a software or hardware firewall? Hardware firewall services are available through Charlotte Colocation Center.
Do I require remote power boot services? These are available through Charlotte Colocation Center as well.
Please bring in your own 6' to 10' RJ 45 Ethernet Cable as well as your own 115V power cord/cords.